Weekend cooking is all about treating yourself. Sometimes, that indulgence comes in the form of an intensely chocolatey dessert, but often, for me, it's about purchasing ingredients I don't usually use for every day cooking. Fresh, sushi-grade tuna definitely fits that category. It's relatively expensive, but a lovely splurge to enjoy every now and then when you want dinner to feel extra special.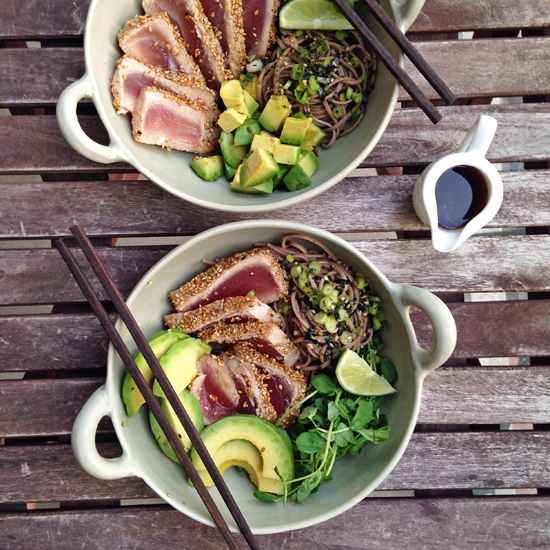 When you're dealing with good quality fish, the best way to enjoy it is to cook it simply, without too much fussing about, so the fish remains the star of the show. One of my favourite ways to cook tuna is to create a crust on the outside of the fish using golden, crunchy, sesame seeds. They give the fish great flavour and texture, and make a perfect contrast to the soft and velvety bright red centre within. You want to sear the tuna on high heat to form that nice crust while making sure to leave the interior untouched.
I love serving the tuna over cold soba noodles, that I toss with a little sesame oil, soy sauce and thinly sliced green onions. To round off the plate, I add some fresh avocado, a small handful of greens and lime wedges.
Sesame Crusted Tuna and Soba Noodle Bowls
Serves 2
300g sushi-grade tuna
Vegetable oil
Salt and freshly ground pepper
2 tbsp sesame seeds
Brush tuna with a little vegetable oil; sprinkle generously with salt and pepper. Sprinkle with sesame seeds, pressing lightly to adhere. Heat a good drizzle of oil over medium high heat; cook tuna for 2-4 minutes on all sides. Remove to cutting board; let cool slightly. Using sharp knife, cut into slices.
Serve with cooked, cold soba noodles seasoned with a little sesame oil, soy sauce and toasted sesame seeds as well as a handful of greens, fresh avocado and lime wedges.