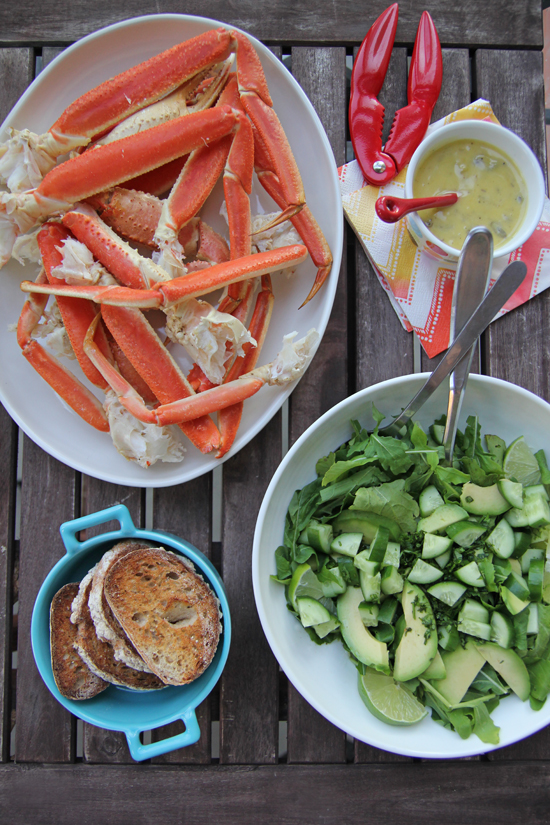 Oftentimes, simple meals really are the best. When things get a little hectic — as they tend to in the new school year (whether or not your have kids going back to school!), I turn to good old fashioned simple meals with big flavours and little effort.
Whole Foods carries already prepared and cooked snow crab in their fish section, and when they do, I usually cave. Not only is it the easiest meal to put together — all it needs is a little tasty mayonnaise, some crusty bread and a good salad — but it's also just a fun meal to dig into. Messy meals are always more fun than the stuck-up ones aren't they?
Snow Crab with Herbed Mayo and Crusty Bread
Serves 2
Cooked crab legs (3 to 5 per person is plenty)
1/2 cup of homemade mayonnaise (find my fail safe recipe here)
A small handful of fresh herbs ( I love a mix of fresh tarragon, chives and parsley)
1 tbsp capers
2 tsp lemon juice
4 slices of bread
Olive oil
1 garlic clove, cut in half
Combine mayonnaise, herbs, capers and lemon juice. Set aside.
Drizzle bread slices with a little olive oil. Arrange on baking sheet and bake in a 400°F oven until the bread is golden and crusty, about 10 minutes. Rub bread with exposed side of garlic. Serve with the snow crab and mayonnaise. Enjoy!