If I could only eat one kind of protein forever, it would have to be seafood. Are you with me?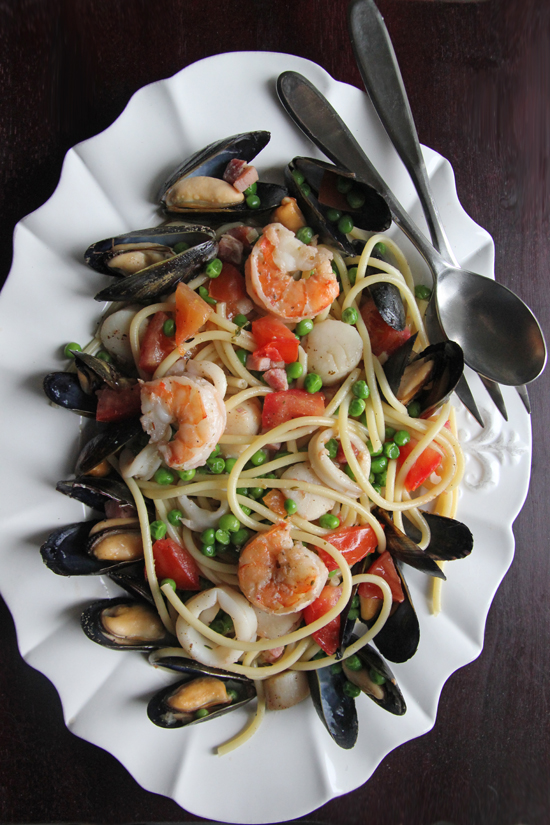 Shrimp, calamari, oysters, crab, lobster — I love it all. I also happen to love a generous sprinkle of freshly grated Parmesan cheese on top of any seafood pasta. I know, it's a big Italian no-no but I love it. I've been the recipient of many scolding eyes at 'authentic' Italian restaurants when I asked for some.. but it does taste pretty fantastic, so I'll take the shame!
This pasta is a seafood lover's dream. The mussels are simply cooked with a little dry white wine, and the other seafood is flavoured by a little chopped bacon. You can use the pasta of your choice for this dish, but I find that a long cut of pasta like this bucatini holds on to all the flavours in the dish without competing with the seafood. Bucatini — the thick, hollow spaghetti-like pasta — has a bit more texture than spaghetti when  you cook it al dente. And don't forget to generously salt your pasta water, it makes a real difference! The water should taste like the ocean, so season with a generous hand.
This meal may look like a special-occasion meal, but it actually comes together in a matter of minutes and if you have all the ingredients in your fridge, it's definitely doable on a weeknight. And feel free to experiment with the base recipe: I've made this dish with mussels only, and regularly make it with shrimp and scallops on their own. Yum!
Seafood Bucatini
Serves 4
12 oz bucatini pasta
1/2 cup frozen peas
1 lb mussels
1 tbsp olive oil
2 shallots, diced
4 sprigs of thyme
4 garlic cloves, minced
Salt and pepper
1 cup dry white wine
1/4 cup chopped bacon
16 shrimp, peeled and deveined
12 calamari rings
8 scallops
2 plum tomatoes, cored and chopped
1 tbsp lemon juice
1/3 cup Parmesan Cheese
Salt and freshly ground pepper
Cook pasta according to package instructions and adding peas in the last 3 minutes of cook time. Drain the pasta, reserving 1/2 cup of pasta water.
Meanwhile, in a saucepan over heat half of the olive oil over medium heat. Stir in shallots, the thyme and half of the garlic. Cook, stirring until shallots are softened, about 2 minutes. Add mussels and wine; stir. Bring to a boil; reduce to a simmer and cover. Cook, shaking the pot once or twice to help the mussels open, about 5 minutes. Discard any mussels that have not opened.
In a skillet over medium heat, add bacon. Cook until bacon starts to brown and render some of its fat, about 3 minutes. Stir in remaining garlic as well as shrimp, calamari, scallops and a good pinch of salt and pepper. Cook, stirring occasionally, until shrimp is just pink and opaque, scallops are opaque and calamari is just cooked through, about 5 minutes. Stir in tomatoes; cook until just heated through, about 1 minute. Fold in pasta, peas, mussels and mussel liquid (discarding thyme stems). Stir; adding enough pasta water to loosen up the sauce. Transfer to serving platter. Drizzle with lemon juice and remaining olive oil. Top with Parmesan cheese and a little more salt and pepper, if needed. Enjoy!