I'm back with you today with a simple recipe for a quick weeknight pasta. You know the kind of recipe I'm talking about, where the sauce can be whipped up in the time it takes the pasta to cook. Punchy food that hits the spot after a long work day, and only a few ingredients needed.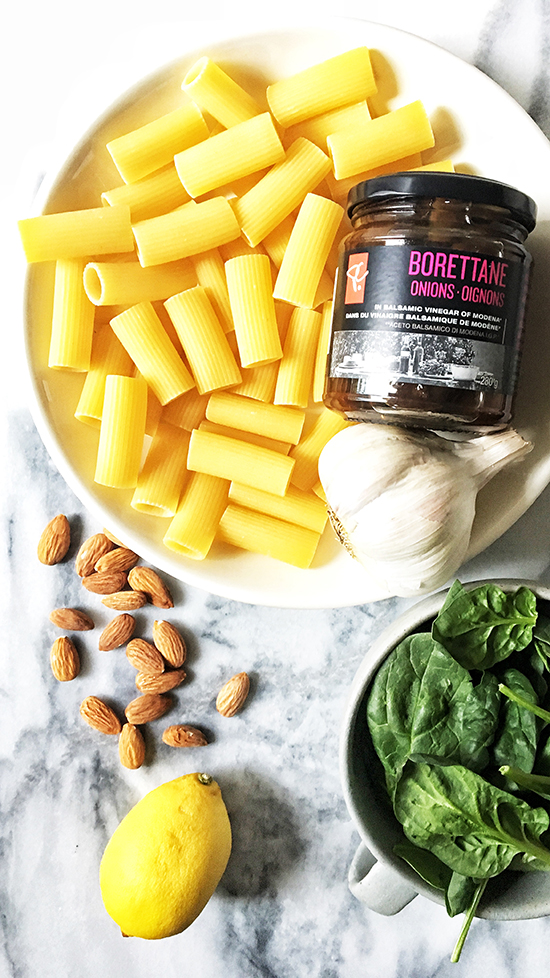 This is my newest recipe for my partnership with President's Choice PC Black Label. I was given two products to choose from, their PC Black Label Borettane Onions or their PC Hot Cherry Peppers but these sweet little onions won my over in no time. On another night, I'll be serving these little guys alongside some sharp cheeses with a little fig jam and some crusty bread.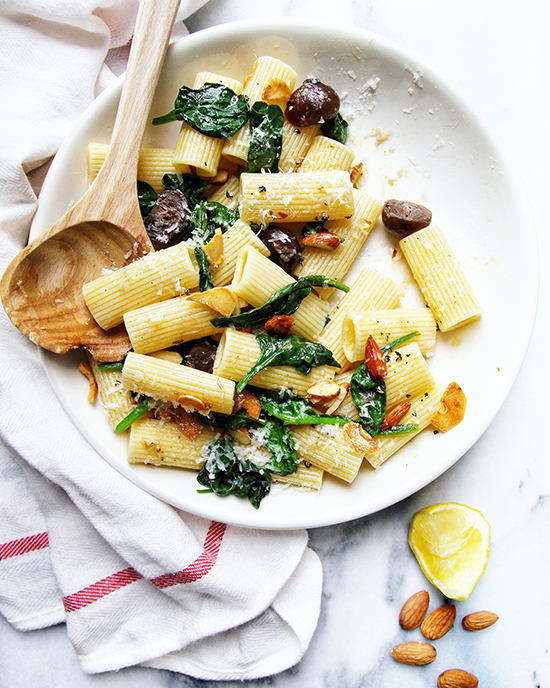 Garlic Rigatoni with Balsamic Onions & Almonds
How it's done (Serves 2)
• 170g rigatoni pasta
• 2 tbsp olive oil
• 3 garlic cloves, thinly sliced
• 3 cups packed baby spinach
• 1/4 cup whole almonds, coarsely chopped
• 1/3 cup drained PC Black Label Borettane Onions, chopped and 2 tbsp brine from the jar
• Salt and freshly ground black pepper
• 1/3 cup grated Parmesan cheese
• 1/2 tsp lemon zest
In large saucepan of salted boiling water, cook pasta according to package instructions until al dente, reserving 1/4 cup cooking liquid.
While pasta is cooking, in nonstick skillet over medium heat, add oil and garlic. Cook, stirring occasionally, until garlic slices turn golden, about 5 minutes. Using slotted spoon, remove garlic to plate and set aside. Add spinach, almonds, onions, brine and a generous pinch of salt and pepper to pan ; cook until spinach starts to wilt and onions are warmed through, about 3 minutes. Stir in pasta and reserved cooking liquid. Cook, until liquid has slightly reduced, about 2 minutes. Stir in Parmesan cheese and lemon zest. Top with garlic chips and serve immediately.