Galettes have always been a staple in my kitchen: they fit my approach to cooking – they're surprisingly simple to make (but look impressive), are generally packed with fresh ingredients (but still taste indulgent – most generally thanks to cheese!) and can be whipped up in a short amount of time. I make them year-round in both sweet and savoury form, changing up the fillings depending on what I have on hand.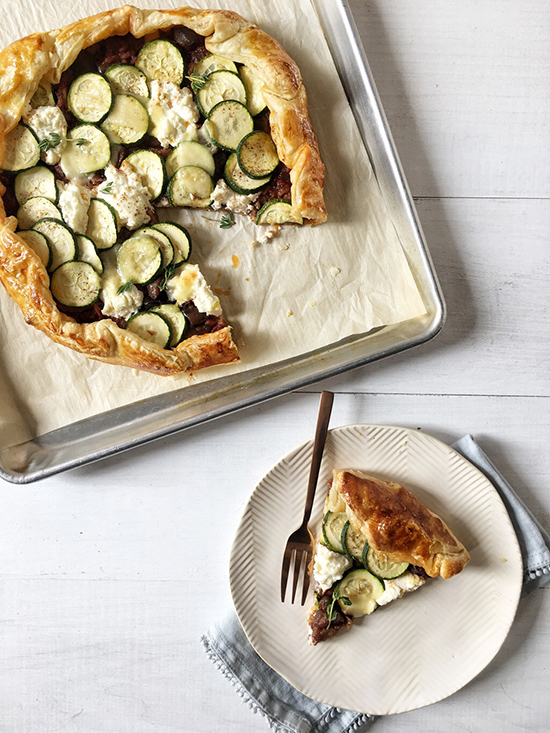 Before I share the recipe for this galette, just a few housekeeping words to share. For the next few months, you'll see a few recipes I've created for PC Black Label make their way to this site. This partnership felt very natural to me – I've been using the range in my kitchen for years and have added many of the products to my list of staples. The products are innovative, often using the best base products from all around the world, with a special attention to bold flavours. The whole idea behind this campaign is to #PlayWithYourFood, or think outside of the box when it comes to preparing a meal, an attitude that's always been mine when it comes to cooking.
This month, I was asked to create a recipe using either PC Black Label's Peperoncini Chopped Hot Chili Peppers in Oil or PC Black Label's Caponata Eggplant Antipasto. My tolerance to spicy food being quite wimpy, the choice was an easy one to make! Caponata wins the day.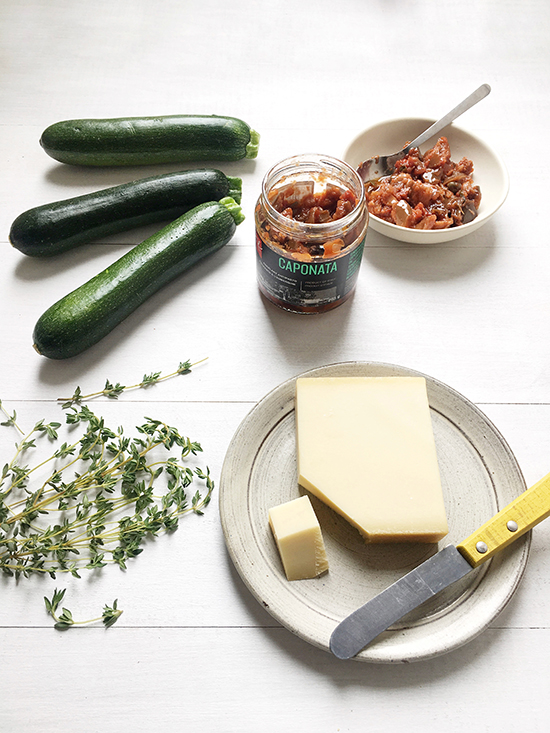 Zucchini, Ricotta & Caponata Galette
How it's done:
• 1 sheet frozen puff pastry (half 450g pkg), thawed
• 1 jar PC Black Label Caponata Eggplant Antipasto, lightly drained.
• 2 sprigs of thyme, leaves picked, and extra to garnish
• 1/2 cup smooth ricotta cheese
• 1 zucchini, cut into thin rounds
• Generous pinch each salt and pepper
• 1/4 cup shaved Gruyère cheese
• 1 egg yolk, beaten with 1 tsp water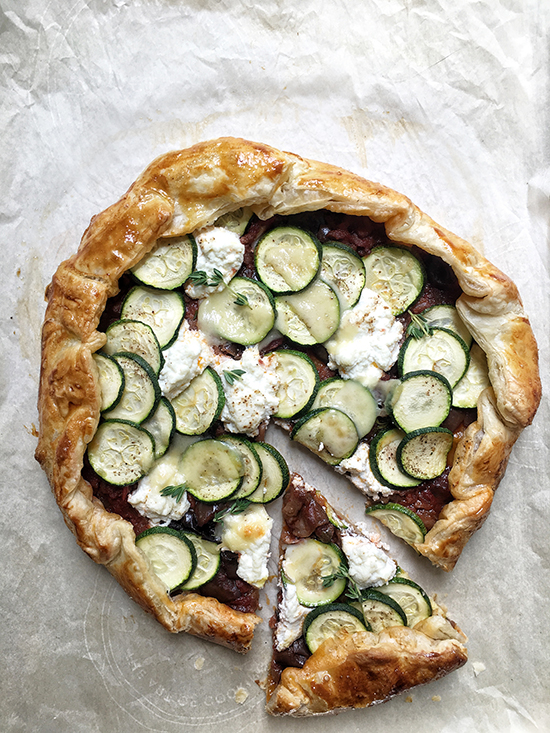 Unroll puff pastry sheet onto large piece of parchment paper. Roll out slightly to make 25cm x 30cm rectangle.
Cut about 2 cm off each corner. Spread caponata leaving a 4 cm border around puff pastry. Dollop with ricotta. Arrange zucchini slices over top. Season with salt and pepper; top with Gruyère. Fold edges of pastry around filling. Slide parchment paper onto baking sheet.
Brush sides of pastry with egg mixture. Bake in 400°F oven until pastry is golden and zucchini is tender, about 25 minutes. Sprinkle with a few extra sprigs of thyme.