Tiramisu was one of the very first recipes I used to make on my own as a kid. One of my mom's friends had a treasured, super simple recipe to make it and quickly taught me one summer. I remember thinking this was one of the easiest, yet one of the most luxurious desserts I had ever had. There's always a bit of a wow factor when you bring layers of lush cream to the table,especially when combined with the aroma of strongly brewed coffee. I really love it.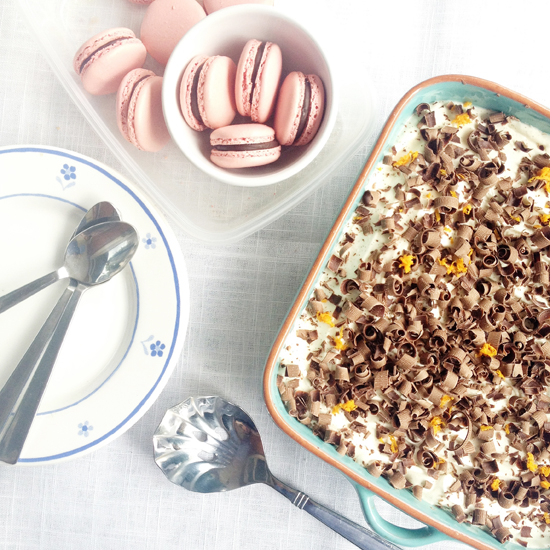 When I got together with Jan from Family Bites and Mardi from eat.live.travel.write for our Cookbook Club this month, and Jamie Oliver was our chosen cookbook author, I decided to delve back in the tiramisu realm. Now I now there are countless tiramisu recipes out there, but I've never tried a more simple one. His version doesn't use eggs, uses store-bought lady fingers and can be assembled in a matter of minutes. And the best part? It's absolutely delicious!
My only deviation from the recipe was that I used Grand Marnier instead of sweet sherry, but the combination of orange and chocolate (especially when the recipe already called for orange zest and a little juice) was pretty stellar. I played around with the amount of Grand Marnier and orange juice to get a thick but pliable cream mixture, and used less Grand Marnier than the amount of booze suggested (Grand Marnier is quite strong!). And as often with Jamie Oliver's recipes, not all the directions are incredibly precise, so play around with the recipe a little bit to reach your desired texture.
I also love the generous amount of chocolate shavings that top Jamie's tiramisu, a sweet and pleasant change from the traditional dusting of cocoa powder. And who better than yours truly to use copious amount of chocolate shavings to garnish a dessert?
If you're wondering what the perfect little macarons sitting next to the tiramisu are, head on over to Mardi's blog, these are her fabulous concoction! Head here to try this tiramisu version for yourself and let me know what you think!