Every time the weather starts to perk up, a new signature salad generally makes its way to my table. Last year, I think my favourite was this Spring Potato Salad (featuring capers, radishes, blue cheese and baby potatoes) but this year, even though it's still early in the season, I think it's going to be this Peach and Scallop concoction.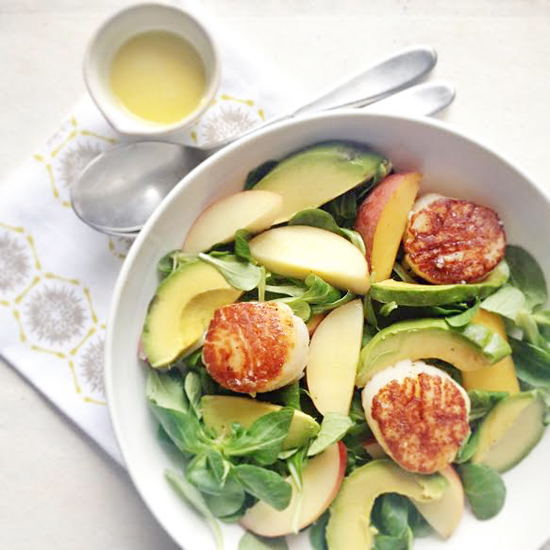 The combo of the sweet peach slices and buttery scallops is pretty divine and the coulours alone make me want to spend the day outdoors. You could definitely grill the peaches, but I like the contrast of the raw fruit against perfectly seared scallops. The only trick is to make sure that you don't handle the scallops too much while they're cooking away. Turn them once only and make sure to sear them on medium high heat so they develop a nice and golden crust on the outside and stay buttery and soft within.
Peach and Scallop Salad
Serves 2
Salt and freshly ground black pepper
6 sea scallops
1 tbsp olive oil
3 cups mache
1 peach, pitted and slices into wedges
1 avocado, peeled, pitted and sliced
Mustardy dressing:
1 tsp Dijon mustard
4 tsp olive oil
4 tsp lemon juice
Salt and freshly ground pepper
Mustardy dressing:In small bowl, whisk together mustard and olive oil until emulsified. Whisk in lemon juice and pinch each salt and pepper. Set aside.
Season scallops generously with salt and pepper. Heat oil n a nonstick skillet over medium heat, cook scallops, turning once until they are opaque, about 2 minutes per side. In serving bowl, combine mache, peaches and avocado. Drizzle with dressing, tossing to coat. Top with scallops. Enjoy!