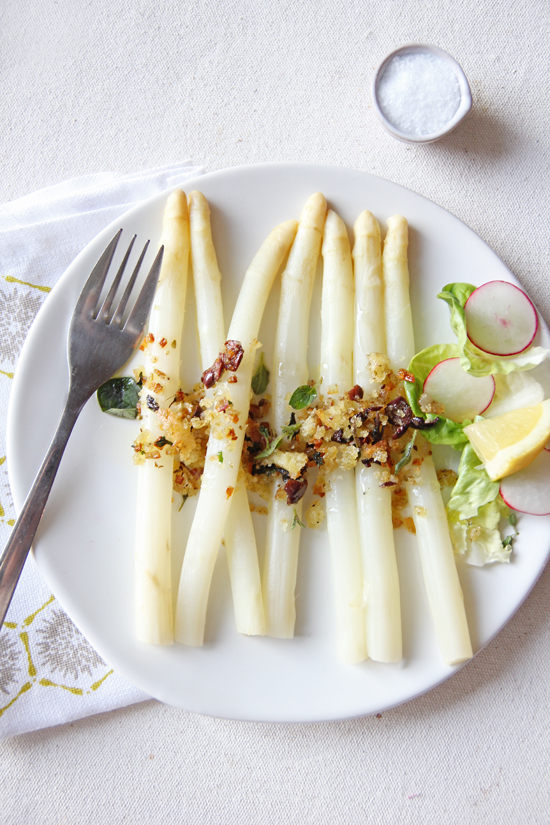 I couldn't resist picking up a bunch of white asparagus when I found them during my grocery run a couple days ago — it's actually a pretty rare find on the side of the world and an appetizer I can never get enough off. I grew up eating the white variety in Paris, most often with a Mousseline sauce spooned overtop. Mousseline is made from Hollandaise sauce (the ever-creamy sauce served on top of poached eggs with your Eggs Benedict) with the addition of frothy whipped cream. The next time you have a little extra time in the kitchen to whip it up, I highly recommend giving it a try. This version is topped with golden, crispy breadcrumbs, salty olives and herbs for a simple (and let's be honest, less rich!) appetizer.
Bur first, a few words of wisdom about how to prep and cook white asparagus:
1. Peel, Peel Peel: White asparagus is much tougher than its green counterpart, so it has be peeled to remove the outer layers of each spear. To peel them, lay the asparagus on a cutting board and gently peel removing the woodsy layers. They are quite delicate so make sure not to break them while you do so. If some the spears are much thicker than others, I would suggest peeling the larger ones a little more to trim them down so that they are all just about the same size. This will ensure even cooking.
2. Tender is a Must: While you can eat green asparagus barely cooked (or even raw at times), white asparagus has to be cooked until tender. There is no al dente here! To cook them, tie them with a little kitchen string, and pop them into a large saucepan of salted boiling water. They'll cook for about 15 to 20 minutes (depending on the thickness of the spears) — but could even take up to 30 minutes if they're very thick. Using a paring knife, prick a stalk at its thickest part, it your knife slides right out, they're done!
3. Tall and Proud: The end of the spear is the most tender and delicate part of the asparagus — to avoid over-cooking, stand your tied bunch of asparagus straight up the saucepan so the tips are just out of the water.
4: A Little trivia!: White asparagus is just that — white! — because the spears are grown without being exposed to sunlight. That means that harvesting these babies is a labor of love — the spears have to constantly be shielded from the sun and air. This also explains why they're generally more expensive than green asparagus.
White Asparagus with Olives and Golden Breadcrumbs
Serves 4
1 bunch asparagus
1/4 cup olive oil
2 shallots, diced
1/4 cup pitted and chopped nicoise olives
1/2 cup fresh breadcrumbs, or, alternatively Panko breadcrumbs
2 tbsp chopped fresh oregano (substitute with fresh parsley if you can't find any)
Lemon juice
Salt and freshly ground black pepper
Peel asparagus to get rid of tough, woodsy layers. Tie like a bouquet of flowers using kitchen string. Add asparagus, standing upright with tips facing upwards, in a large saucepan filled with salted boiling water. Cook until tender, 15 to 20 minutes. Remove string; cool in a bowl filled with ice and cold water. Once completely cold, gently drain and pat try.
Meanwhile, in nonstick skillet over medium heat, add 2 tablespoons of olive oil and and shallots, stirring occasionally, until shallots are very soft, about 20 minutes. Stir in olives, breadcrumbs and another tablespoon of olive oil. Stir until breadcrumbs turn golden and crisp up, about 5 minutes. Stir in oregano and a drizzle of lemon juice. Sprinkle over asparagus, adding another drizzle of olive oil and lemon. Taste and adjust seasoning as needed with salt and freshly ground black pepper, keeping in mind that the olives are quite salty on their own. Enjoy!