Let me confess. This healthy breakfast came to be when I was thinking of an excuse to open one of my latest Trader Joe's finds. Not that I needed an excuse, really. These coconut chips are pretty amazing on their own, but also happen to make the perfect crisp topping to soft steel-cut oats.We sadly don't have a Trader Joe's in Canada as of now, but I picked these up along with a mountain of other goodies on a recent road trip to Philly. If you've seen my instagram, you already know everything I brought back!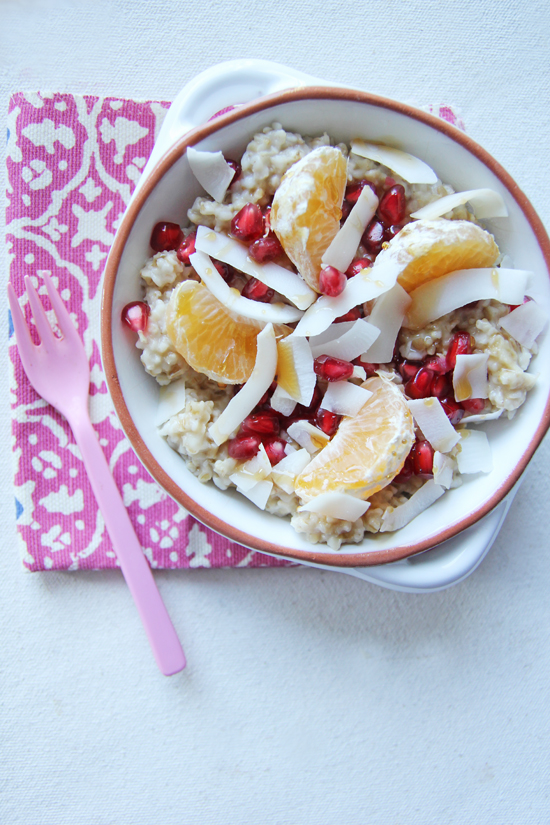 I love indulging in these on weekends — and by indulging I mean taking the time to cook oats in the morning, a luxury I can't really afford on busy week days.
Besides satisfying, steel-cut oats just happen to be wholesome and healthy as well. When the temperatures start to sink (we had our very first snow this weekend in Toronto, followed by blistering cold!) this is the kind of meal that makes you want to dive into the day. This week, I'm back to May in November, as I start working on the May 2014 issue of Canadian Living. Today was spent shooting a web video for our February issue (I'll keep you in the loop once it's live!) and starting on the recipe brainstorming for our big spring issue. But for tonight, back to winter!
Pomegranate and Coconut Steel-Cut Oats
Serves 2
1/2 cup steel-cut oats
1 tbsp good-quality liquid honey
1/3 cup pomegranate seeds
1 clementine, divided into sections
1/3 cup coconut chips
Cook steel-cut oats according to package instructions until desired consistency (the oats will thicken quickly so, make sure to make them a little more oozy than what you're aiming for). Scrape into two bowls, Top each with pomegranate, clementine and coconut. Enjoy!