It's felt like a long couple of weeks. Life in the Test Kitchen hasn't skipped a beat — we're well on our way into our Spring issues (almost moving on to Canadian Living's May 2014 issue!) and I feel like the Fall months have sort of passed me by. This soup was a welcome pause in my busy schedule and a comforting meal to warm up for leftovers. The carrot/ginger combo is a classic no-brainer, it's both sweet and tangy, with a perfect bright orange hue. I love the addition of pistachios to top the soup, although crusty bread and a dollop of creme fraiche is more than enough if you can't be bothered with the pistachios.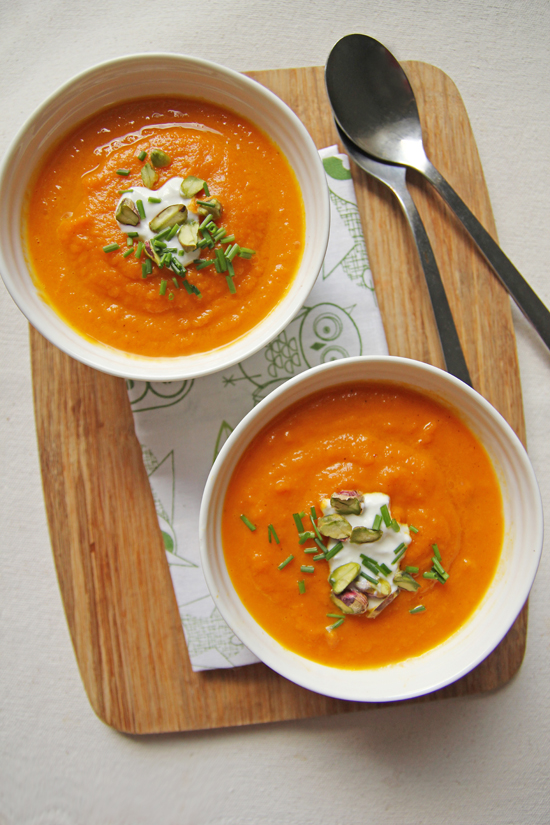 Carrot and Ginger Soup with Creme Fraiche and Pistachios
Serves 4

1 tbsp olive oil
1 onion, finely chopped
2 garlic cloves, chopped
1 tbsp minced fresh ginger
1/4 tsp each salt and pepper
Pinch each freshly grated nutmeg and cinnamon
500 g carrots, peeled and finely chopped
2 cups sodium-reduced chicken stock, or vegetable stock
1/2 cup creme fraiche
1/3 cup pistachios, chopped
2 tbsp chopped fresh chives
In large saucepan, heat oil over medium heat. Cook onion, stirring occasionally, until softened and translucent, about 5 minutes. Stir in garlic and ginger, salt, pepper, nutmeg and cinnamon;  cook, stirring, until fragrant, about 1 minute.
Stir in carrots, cook until combined, about 1 minute. Stir in broth with 1/2 cup water;  bring to a boil. Simmer until carrots are tender, about 20 minutes. Using immersion blender, blend until smooth, adding up to 1/2 cup of water if too thick.
Ladle into bowl, top with creme fraiche, pistachios and chives.