Have you started your holiday shopping as of now? If you have, I applaud you, because, without fail, every year, I always end up getting gifts for my loved ones at the very last second. Unorganized? Maybe. But I do strive on adrenaline, so the last minute search with time to beat is not an unpleasant challenge.Gift wrapping, however, is something that I start thinking about a long time in advance. Working in the magazine industry, our Christmas has already come and gone which means I already have a few tricks (and ideas) up my sleeve.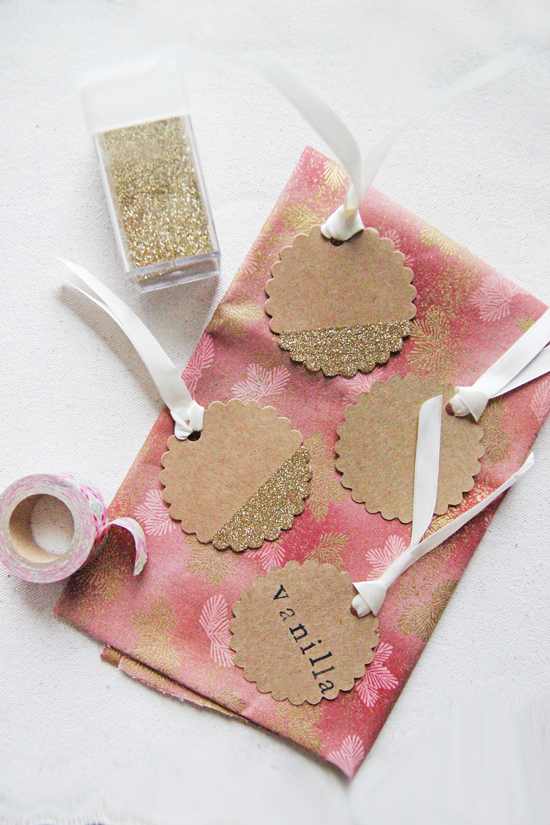 These gold-dipped tags started with an inexpensive package of gift tags I found at my local craft store. They actually already came with their pretty scalloped edges, but if you can't find these, simply purchase some sturdy kraft paper, and cut into scalloped rounds using a whole puncher. I love using these as gift tags to adorn homemade food gifts, like pure vanilla or mini meringues.
DIY Gold-Dipped Gift Tags
6 kraft gift tags
washi tape
1/3 cup gold glitter
Paint brush
all-purpose glue
Lay out gifts tags on work surface. Secure piece of tape to mark out the section you want gold. Using paint brush, evenly spread a layer of glue below the tape. Sprinkle with ample glitter. Shake off excess glitter. Let set, at least an hour. Gently peel off tape to reveal straight line.