There's something of a natural pairing between crisp veggies and the warm summer months. There's a lot a good crunch can make better, and after a long day biting into something with character tends to energize me. Does that sound crazy? Maybe. But give it a try and let me know what you think! These lettuce cups are a great option for a quick weeknight meal when you want something filling, refreshing and healthy. I make these really often at this time of year and they're a hit on my dinner table every time.
The only slightly tedious part of the dish are these quick pickled carrots but they're so delicious and can be made well in advance. I like to make them during the weekend when I have a little more time to spare, and then keep them in my fridge to use up for different meals during the week. The balance of sweet, tangy and crisp is pretty much heaven on a dinner plate.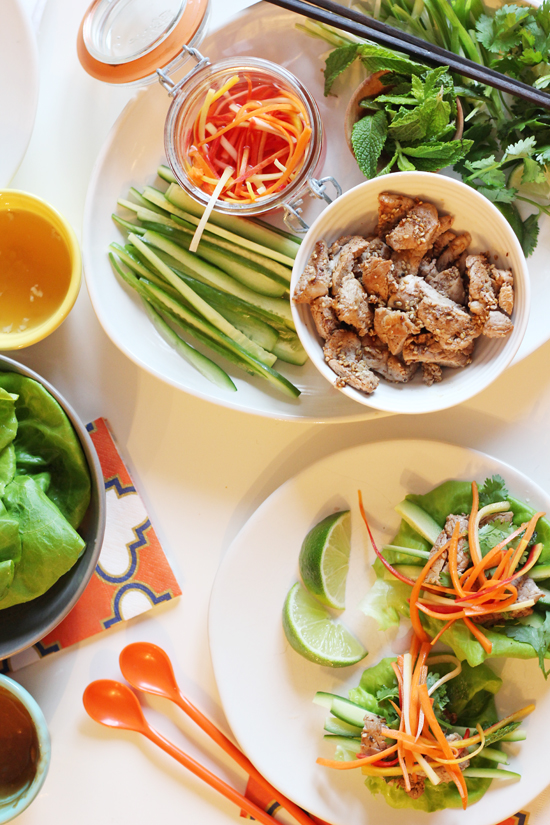 I wanted to share this meal because it's a great base to start off with but it can be made into a variety of meals depending on your mood or what you have on hand. I love making these with shrimp, and they're also delicious with pulled pork or slices of seared medium-rare flank steak. I used a nuoc cham dipping sauce for this time, but a quick peanut sauce is delicious too, or even just a little mix of soy sauce and honey. I also sometimes add some white rice to the mix! The world is your oyster when it comes to choosing your filling for these lettuce cups, although I wouldn't recommend adding oysters. But you know, to each his own.
Five-Spice Pork Lettuce Cups with Pickled Heirloom Carrots
Serves 4
400g pork tenderloin, trimmed and thinly sliced
2 tsp five-spice powder
2 tbsp sodium-reduced soy sauce
2 tsp sesame seeds (preferably toasted)
Salt and freshly ground black pepper
2 tsp vegetable oil
1 head of boston lettuce, separated into leaves
1/2 English cucumber, seeded and cut into matchsticks
3 green onions, sliced lengthwise and cut into strips
Pickled carrots (use this recipe, with carrots only)
A small handful of fresh cilantro, torn
A small handful of fresh mint
1 lime, cut into wedges
Nuoc cham dipping sauce (I used this recipe)
In bowl, combine pork, 5-spice powder, soy sauce, sesame seeds and a pinch each of salt and pepper. In large skillet, heat oil over medium heat. Cook pork, stirring occasionally, until cooked through, about 8 minutes. Serve with lettuce, cucumber, green onion, carrots, cilantro, mint, lime wedges and nuoc cham sauce.