Sometimes in life, and especially in the kitchen, you have to slightly reinvent the wheel to get to new delicious results. Having had more than my fair share of chocolate-covered strawberries, I couldn't resist giving the concept a try with cherries, when I brought back a basketful back from the farmer's market.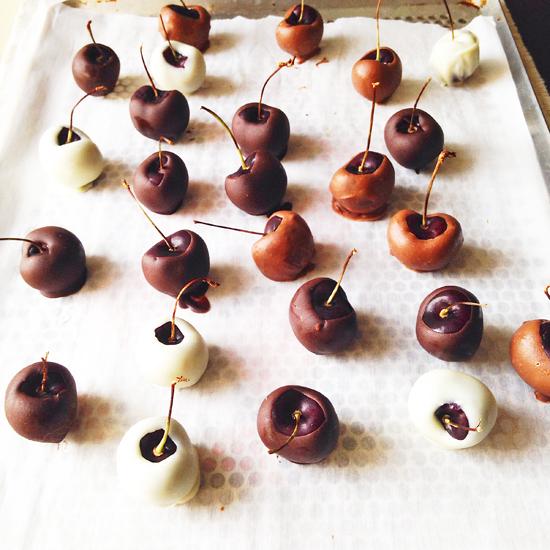 This is the easiest of recipes — if I dare to even call it that! – but it's so perfect to entertain with and a great little dessert to keep in the fridge for last-minute guests. I love the colour combo of dark (70%), milk and white chocolate with the fruit. Simply melt your three kinds of chocolate in a double-boiler and dip away. Let any excess drip off, arrange on a parchment-paper lined baking sheet and leave the chocolate to harden in the fridge.
The contrast of the hard, sweet chocolate shell with the soft cherry centre is just perfect at this time of year. For me, summertime is all about these kind of super easy desserts, which make the most of deliciously plump seasonal fruit.