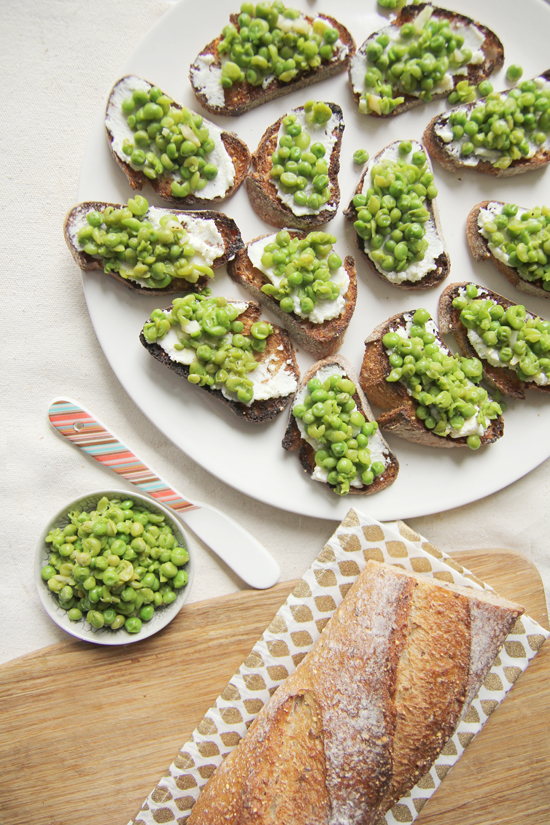 When the cold weather makes everything seem a little grey (or white!) a bag of frozen peas does a lot to remind me that spring is undoubtedly on its way. This is the one staple I consistently have on hand in my freezer at all times. I add peas to soups, pastas or turn them into the star of the show as I did with these little bruschettas.
These make great cocktail party finger food (and pair wonderfully with my Pomegranate Rosemary Sparklers) but are also great alongside a root vegetable salad for a light lunch. I also often add a little smoked salmon on top to make it a complete meal, or hard-boiled egg wedge. The combo of the garlicky, crusty baguette with the creamy ricotta and sweet peas is heaven on a plate for me.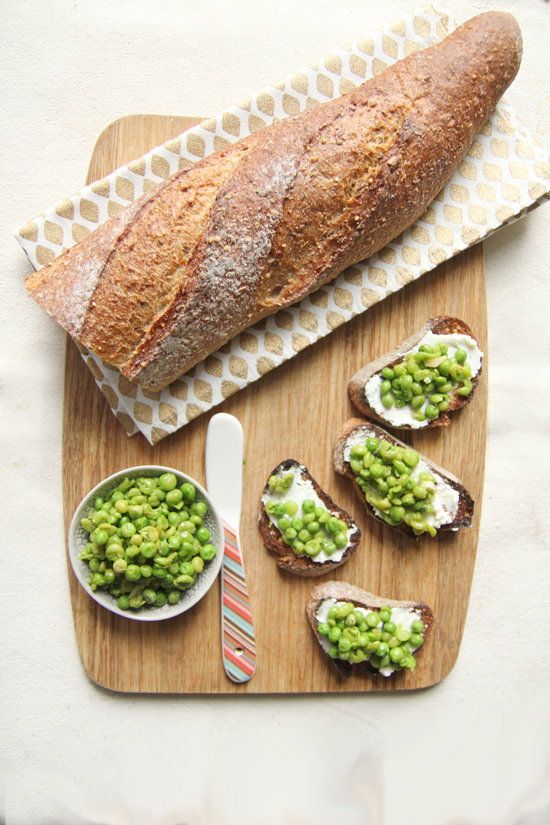 Pea and Ricotta Bruschetta
1 baguette, cut into slices
1 peeled clove of garlic, halved
1 tbsp olive oil
2 shallots, diced
2 tsp chopped thyme
1 1/2 cups frozen peas
1/2 cup smooth ricotta
1 tbsp milk
1/4 tsp lemon zest
1 tbsp lemon juice
Salt and freshly cracked pepper
Bake baguette slices in 400ºF (200ºC) oven until golden and crusty, about 6 minutes. When the bread has just cooled enough to handle, rub the exposed side of the garlic over one side of the bread.
In the meantime, in a nonstick skillet heat oil over medium heat, cook shallots, stirring occasionally until translucent and softened, about 8 minutes. Stir in 1 1/2 cups of peas and 1/4 cup water. Cook until peas are warmed through and water has evaporated, about 5 minutes. Stir in thyme and season with a generous pinch of salt and pepper. Using the back of a spoon, mash the peas to break them down slightly.
In a bowl, combine the ricotta, milk, lemon zest, juice and a pinch of salt and pepper. Spread ricotta over bread, top with pea mixture.