Sometimes, excessive snow outside gives you a yearning to bring the summer in and escape. For those days, I opt for a fruity drink like this one, filled with the warm spices and herbs I associate with winter. It's the best of both worlds, really.
The drink starts with a flavoured simple syrup with cardamom pods, ginger and sage. Plan to make this well ahead of time as the syrup has to cool before you use it. Once cooled, you can keep it in your fridge and put the drink together at the very last minute.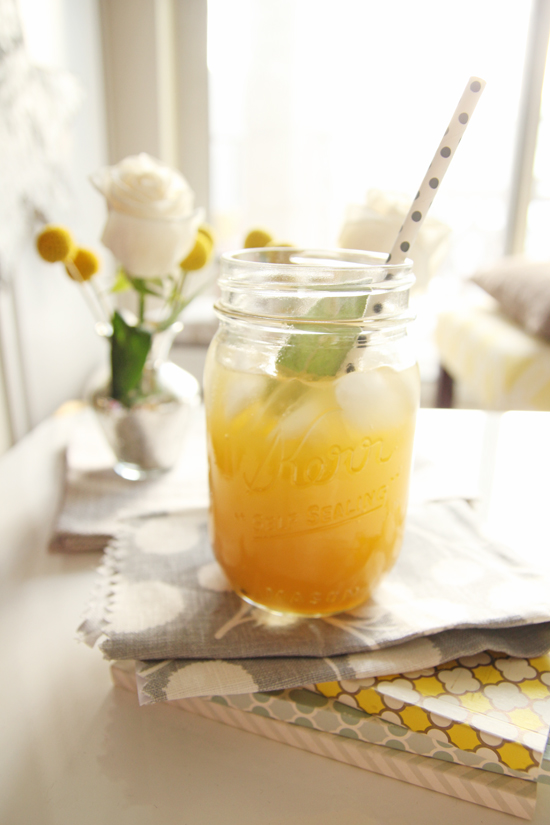 This was the beverage I chose to serve for the third iteration of the Cookbook Club I'm part of (more on that in a couple days!). Here's how to make it.
Cardamom and Sage Mango Spritzer
Serves 1
2/3 cup water
2/3 cup granulated sugar
5 cardamom pods
5 sage leaves, plus more for a garnish
4 slices of peeled, fresh ginger
1 cup mango nectar
Carbonated water
In saucepan over medium heat, combine water and sugar. Cook, stirring once or twice, until sugar is completely dissolved. Immediately stir in the cardamom, sage and ginger. Let cool completely, about 30 minutes. Strain; discarding cardamom, sage and ginger.
In glass, add a few ice cubes. Pour in mango nectar, 2 tablespoons of the flavoured simple syrup; stir. Top with carbonated water and stir again. Garnish with sage leaves. Enjoy!