Certain dishes have that innate quality of making any meal feel like a special occasion. Gravlax fits that bill, no matter how it's served. Simply cured with salt and a few seasonings gravalx really is an easy recipe to make at home. The only requirement is making sure that the salmon that you use is really fresh. I always make a trip to my fish monger's for this type of concoction and ask for sushi-quality fish. Once you've rubbed the fish all over with salt and seasonings, make sure to tightly wrap it and leave it in fridge for at least 48 hours. You'll notice the texture of the fish harden as it cures. Trust me, although you need a little patience to wait for the gravlax to be ready, the end-result is so worth it. As I always say, the simplest of dishes are often the very best ones and this is no exception.
I served the fish with quick-pickled cucumbers and red onions, a creme fraiche and dill spread and warm Montreal bagels, but also enjoyed it on top of crisp potato latkes. It also makes a great topping for a salad, or a great addition to softly scrambled eggs. Here's how I made it!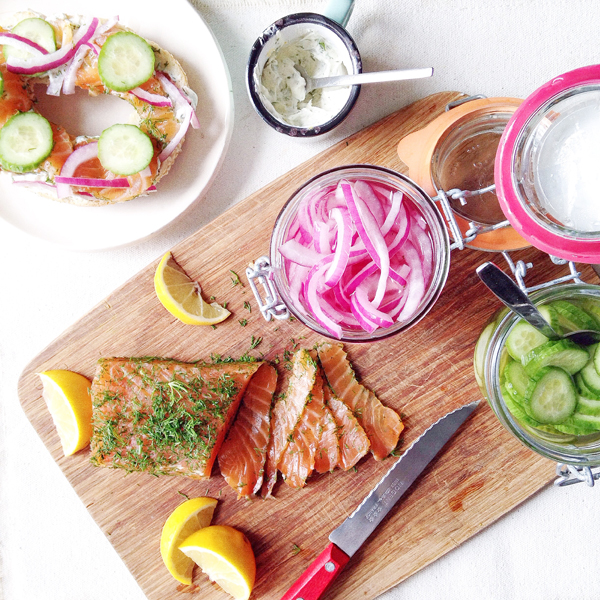 Homemade Gravlax with Dill and Clementine
3 tbsp kosher salt1 clementine, zested
2 tsp brown sugar
2 tbsp vodka
400g suhsi-quality skin-on salmon
2 tbsp chopped dill
Lemon wedges, to serve
In small bowl, combine salt, clementine zest, sugar and vodka, Rub all over salmon. Tightly wrap in plastic wrap, place in shallow dish and cure in the fridge for 48 hours. Rinse fish to remove salt mixture; pat dry. Remove skin and sprinkle with dill.Thinly slice and serve with lemon wedges.