Entertaining is not something everyone does with complete ease of mind. What should my menu be? How much should I serve? Can I entertain stress-free even if my kitchen is pretty tight for space? These are all valid concerns and ones I have often heard people worry about when they're planning a get-together. When it comes down to it, a little planning, simple, hearty food and a good group of people is usually all you need to make entertaining fun.
And, if you want to know exactly how it's done, I've got the cookbook for you!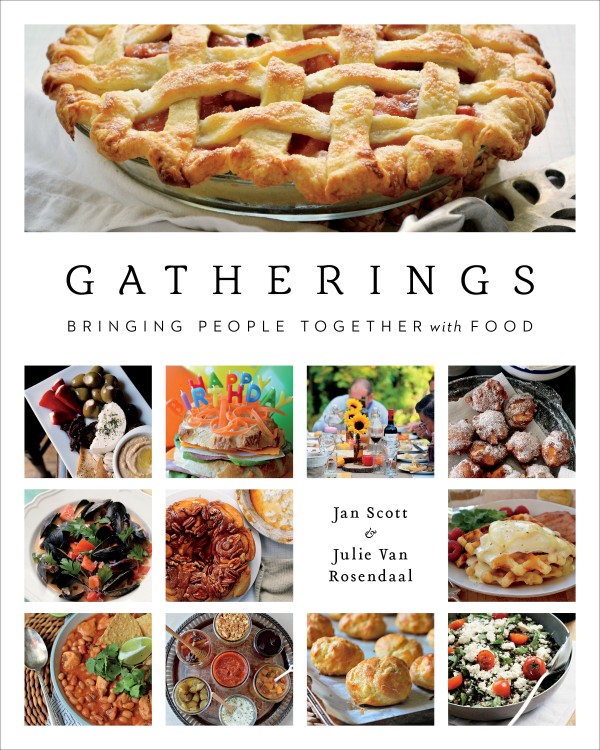 Gatherings: Bringing People Together with Food answers all of these questions while giving you clever ideas to plan specific types of events (think brunch, baby showers, barbecues and birthday parties). Co-written by my friends Jan Scott & Julie Van Rosendaal, I had heard a lot about the book as it was being conceptualized and think the premise is really timely. We all lead hectic and busy lives and the thought of hosting a gathering in the midst of it all can sometimes feel daunting.
Jan is one of the members of the Cookbook Book Club I'm a part of (and that I've blogged about several times here) and we had many discussions about the book as it was being written. Both her and Julie share invaluable advice in the book to make gatherings easier, and more manageable. The result is a cookbook filled with delicious recipes, smart make-ahead ideas (so you can actually enjoy the party you're hosting!) as well as sound advice on how to best plan an event. I love the make-ahead information in the recipes. It's a real time-saver when you're planning your menu and will help you have as many steps as possible done and ready to go before your guests walk through the front door.
The first recipe I tried from the book is this 7-ingredient side dish. I'm always looking for recipes that will help add seasonal veggies to my dining room table, or in this case, recipes that are sure to convert any Brussels sprout haters! If you already love them (join the club!) this is just a stellar way to prepare them.This also makes a great meal on its own if you chop the cooked Brussels sprouts and toss them with some buttery noodles and grated Parmesan cheese.The Brussels sprouts get nice and caramelized as they roast, have a lovely touch of sweetness thanks to the honey and the recipe can be prepared up to 6 hours ahead of time. Make sure to roast them until they have nice colour as this really helps give them that great caramelized flavour.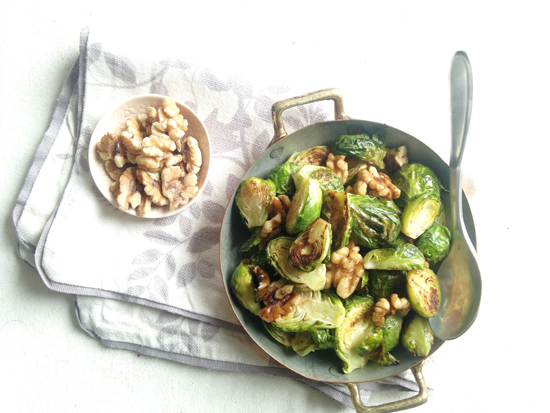 Roasted Brussels Sprouts with Walnuts and Grainy Mustard Sauce
Serves 6 to 8
Recipe excerpted from Gatherings (Whitecap Books) by Julie Van Rosendaal and Jan Scott
8 cups Brussels sprouts
Olive oil
Salt and pepper
2 tbsp honey
2 tbsp grainy Dijon mustard
1/2 cup walnuts, roughly chopped
Preheat oven to 425°F (220°C).
Slice ends off of the bottoms of the sprouts and cut each sprout in half. Remove the outer leaves and the toss the rest onto a large, rimmed baking sheet, separating some of the leaves from the core.
Add a few large glugs of olive oil, and season well with sea salt and lots of fresh ground pepper, massaging the oil and spices into the sprouts. Place the cut sides down on the pan and bake for 12–15 minutes, or until the leaves are a dark amber colour and the cores are nicely caramelized.
Combine the honey and grainy Dijon mustard in a small bowl. Transfer the cooked veggies to a serving bowl, add the walnuts, drizzle the mustard sauce over and gently toss to combine.
Party Pointer: This dish is amazing as is, but for fun I like to replace the walnuts with chopped up bits of leftover ham (not the deli kind) and serve as a side for pizza night. The sprouts can be roasted up to 6 hours in advance and gently warmed before serving.
For more posts about this cookbook, check out these blogs!

Mardi from eat. live. travel. write
Mairlyn Smith
Charmian from The Messy Baker
Amy from Family Feedbag
Jennifer from Seasons and Suppers
Heather from The Tasty Gardener
Isabelle from Crumb Blog
Jenny from The Brunette Baker
Stephanie from Clockwork Lemon
Valerie from A Canadian Foodie
Britt from My Daily Randomness
Robyn from Planet Byn
Libby from Libby Roach Photography
Meg from Sweet Twist of Blogging
Christina from Strawberries for Supper
Louisa from Living Lou
Liliana from My Cookbook Addiction
Rhonda from Olive and Ruby