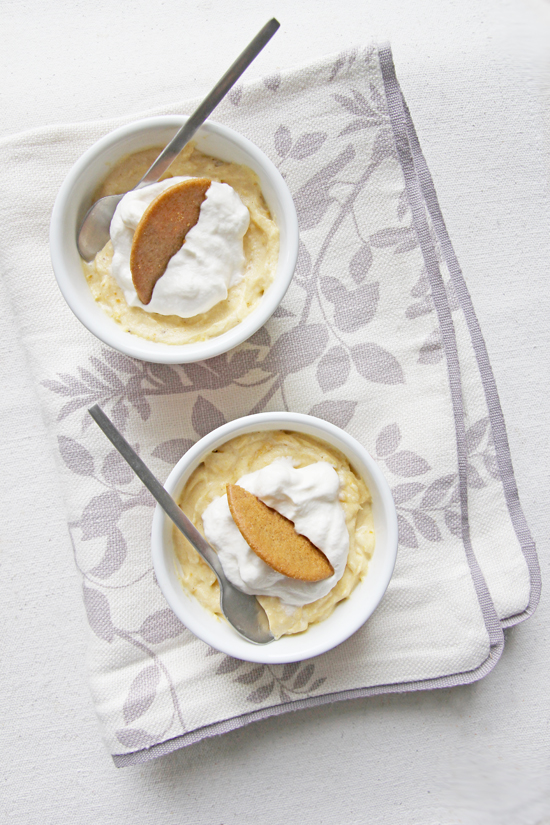 This recipe came to be as I was looking for a quick dessert to make on a Sunday afternoon. I don't do so religiously, but whenever possible, I love to make Sunday nights a roast chicken dinner dinner. It soothes me. Sunday night are not usually my favourite — the weekends always go by too quickly and when Sunday night comes around I always picture my bottomless to-do list. Cooking up a roasted chicken reminds me of home: my mom and I often indulge in juicy, crispy-skinned roast chicken from a rotisserie near my childhood apartment in Paris when I'm home. The chicken comes nestled in a brown paper bag, with gravy in a jar and plump potatoes that have been cooking in chicken juices (read perfectly indulgent chicken fat!) with thick lardons (otherwise known as bacon).
Making my own chicken dinner on this side of the world always makes me feel grounded. This week, it was a simple sumac-sprinkled chicken, with creamy Brussels sprouts and these pumpkin mousses for dessert. These were so, so easy to put together and a great alternative to more tedious and lengthy pumpkin desserts. Just make sure you top the mousses with the gingersnap cookies at the last minute so they stay nice and crisp. This recipe makes two servings, but it easily doubles.
Pumpkin Mascarpone Mousse
Serves 2
1/3 cup mascarpone cheese, at room temperature
1/2 cup whipping cream
1/3 cup pumpkin purée
2 tbsp sugar
1 tsp vanilla
Pinch each freshly grated nutmeg, ground cinnamon and ground ginger
Gingersnap cookies
In bowl, beat mascarpone and 2 tablespoons of the whipping cream until smooth. Beat in pumpkin puree, sugar, vanilla, nutmeg, cinnamon and ginger. In separate bowl, beat the remaining whipping cream until soft peaks form; reserve 2 tablespoons of the whipped cream and set aside in the fridge.Gently fold the rest of the cream into the pumpkin mixture making sure to keep the mixture light and airy and not to over-mix.
Transfer to two individual-sized ramekins and refrigerate until firmed up, about 1 hour. Top with remaining whipped cream and garnish with gingersnap cookies.