I've always loved baked eggs. When I was little, we often had typical French baked eggs which consisted of eggs cracked into a ramekin, topped with a little whipping cream, chopped fresh chives, a good pinch of fleur de sel and freshly cracked pepper and then baked until the whites are just set and the yolk is still oozy. I love it. For brunch, for lunch or for dinner it's so incredibly versatile and really satisfying each and every time. It also happens to be a vegetarian meal, so I love to entertain with it if we have vegetarian friends over.
This version uses large portobello mushrooms, that are first baked until tender, and to which is added a cracked egg. It does take a little checking up on (not all eggs will necessarily be ready at the same time since they might vary somewhat in size and because the portobellos will as well) but it's one of my new favourite ways to enjoy baked eggs. If you're anything like me, you bore easy. I need variety when it comes to what I choose to put on my plate each and every week, and this is a new favourite I still can't get enough of. The only requirement is to have very large portobello mushrooms — the bigger the better! If they aren't, you'll have trouble cracking the eggs in without making a mess.
I like to serve this with an everything-but-the-kitchen sink salad — a great way to use up odd bits and pieces of veggies and cheese I have lying in my fridge. This time it was shredded carrots, avocado, cubed feta cheese and different varieties of lettuce.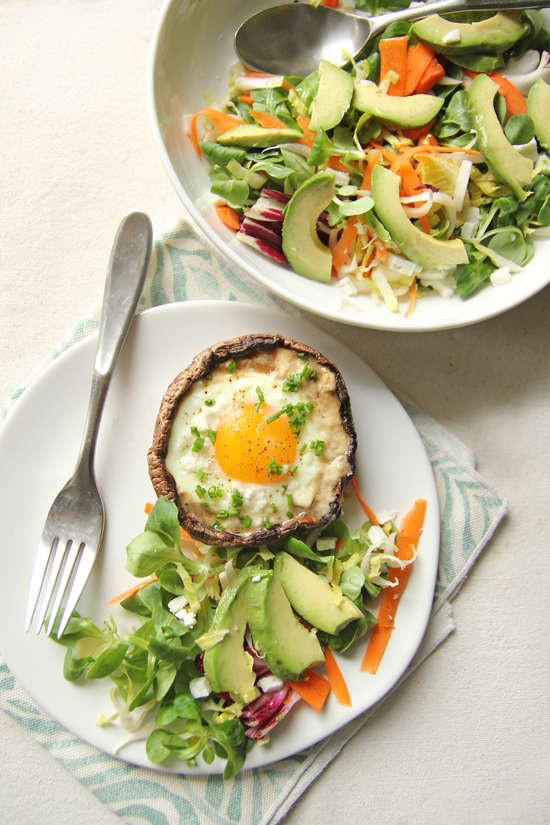 Parmesan and Portobello Baked Eggs
Serves 2
2 very large portobello mushrooms
1/2 tsp finely chopped thyme
1/4 cup grated Parmesan cheese (and more for the table)
Salt and freshly ground black pepper
2 eggs
2 tsp chopped fresh chives.
Trim the very tip of the mushroom caps, if needed, so the portobello mushroom stand as straight as possible. Using a spoon, remove the gills and gently scoop out a little bit of the flesh so you have a deep enough surface to work with. Arrange the mushrooms, stem-side up, on a greased aluminum-lined rimmed baking sheet. Bake in 450 °F (230 °C) oven until browned and tender, 15 to 18 minutes. Using tongs, tip the mushrooms to discard any liquid and pat dry with paper towels. Sprinkle each with half of the Parmesan cheese, half of the thyme and a good pinch of salt and pepper
Reduce the heat of your oven to 375ºF (190ºC). Crack an egg into each mushroom and carefully place into the oven; bake until the egg yolks are set and the egg whites are no longer runny, 15 to 20 minutes. Sprinkle with chives and serve with extra Parmesan cheese at the table, for sprinkling, Enjoy!