After a delicious week of holiday eating, I'm back in my Toronto kitchen, getting back to old, delicious — but more wholesome — eating habits. This is the kind of dish I turn to when I know my body is craving something nurturing. It starts with par-boiled grains — a real time-saver for any busy cook. Grains — such as spelt, barley and so on used to be out of reach for super quick dinners. Even though all you need is to let the grains gently boil away, they do take time to cook — much more time than white rice does, for instance.
Now, so many, easily accessible brands are making par-boiled grains. I love whole grains for the nice bite and texture they add to dishes. And they also happen to be pretty fantastic for your health, so that's always an added bonus. Any combo of grains will work for this recipe – I happened to have a grain medley from Uncle Ben's on hand (a mix of long grain rice, barley, wild rice, rye, oats, spelt and wheat grains). Just read the labels of the product to make sure that there are no added flavourings or salt — you really don't need any added fluff. All you're looking for is a mix of parboiled grains to save your precious time.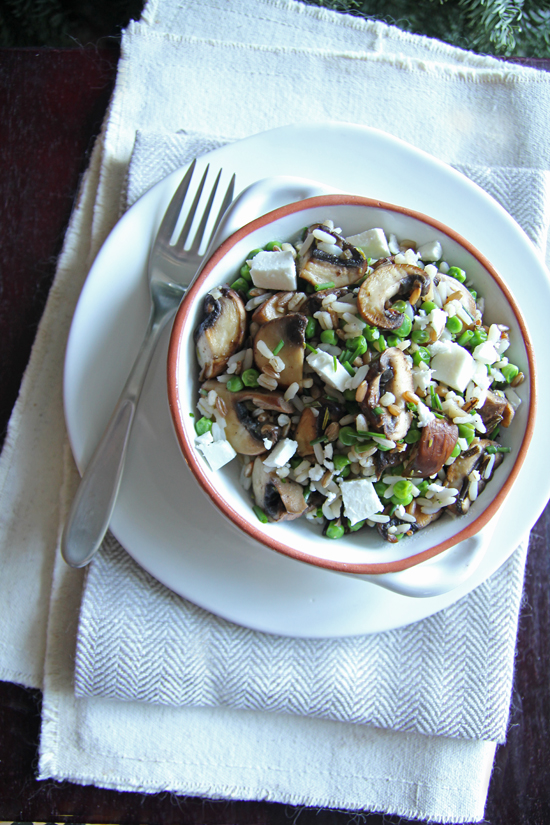 This makes a great side dish to serve alongside any kind of grilled meat or fish, but it's also a great vegetarian option if you top it with a fried egg and a few slices of ripe and buttery avocado.
Wholesome Whole Grains with Herbed Mushrooms and Feta Cheese
Serves 4
3/4 cup mixed grains
8oz (227g) cremini mushrooms, sliced
1 tbsp olive oil
3 garlic cloves, minced
2 tsp stemmed and finely chopped rosemary
Salt and freshly ground pepper
1 cup frozen peas
2 tbsp chopped fresh chives
1/4 cup freshly grated Parmesan cheese, and extra for the table
1/4 cup crumbled feta
1 tbsp lemon juice
Cook grains according to package instructions; drain and keep warm. Meanwhile, in nonstick skillet, heat oil over medium high heat. Stir in mushrooms; cook, stirring occasionally, until mushrooms are golden and no liquid remains in the pan. Turn heat down to medium; stir in garlic, rosemary and a good pinch of salt and pepper; stir until fragrant; about 1 minute. Stir in peas and 2 tbsp water. Cook until peas are warmed through, about 5 minutes.
Stir in reserved grains, chives, Parmesan cheese, feta and lemon juice. Taste and adjust seasoning with salt and pepper as needed. Serve with extra Parmesan cheese at the table. Enjoy!