Have you had watermelon radishes before? They're unassuming pale green exterior reveals a vibrantly pink-hued inside that's sweet, crunchy and absolutely gorgeous. It always makes me smile when I think of the absolutely stunningly beautiful colours that nature produces, and I find myself happy everytime I slice one of these beauties. A pop of colour is especially welcome at this time of the year, when so many of the seasonal veggies are beige — don't you think?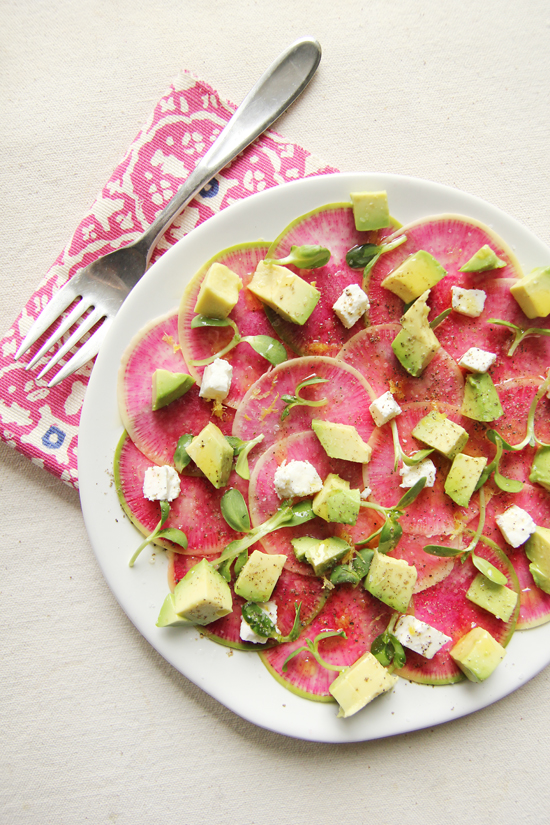 The key to this salad is slicing the watermelon radish really, really thin. It really doesn't need much dressing and is a pretty appetizer or light main dish if you pair it will grilled chicken or pan-seared white fish. I added pea shoots to this recipe, but they really aren't essential: if you can't find them, the salad is still super tasty as is, but they do add a little crunch and make a nice garnish.
This is the kind of dish that I love sharing with anyone who might be weary of entertaining. It's so easy to plate and put together, can be made in advance if you hold off on the dressing and avocado. Chop the avocado at the last minute so it doesn't brown, and have your dressing ready but drizzle it on the salad about 10 minutes before serving so the radishes still stay crisp. It has a little bit of that wow factor that's nice to bring to the table when you have guests over, but none of the stress. Here's how to make it.
Watermelon Radish Carpaccio with Avocado and Feta Cheese
Serves 2
2 watermelon radishes, very thinly sliced using a mandoline or very sharp knife
1/4 cup diced feta
1/2 avocado, chopped
1 small handful of pea shoots
Extra virgin olive oil
Lemon zest
Lemon juice
Salt and freshly ground black pepper
Arrange the watermelon radish slices between two plates. Top each with feta, avocado and pea shoots. Drizzle with olive oil, a pinch of lemon zest, a couple squeezes of lemon juice and a generous sprinkling of salt and pepper. Enjoy!