I'm easing into Fall, can you tell?
The secret to this soup is simple: roasting the cauliflower before adding it to the other ingredients in the soup adds oodles of flavour and an almost nutty taste to the cauliflower. If you want to make this on a weeknight and don't have much time, you can roast the cauliflower a day ahead of time, and keep it in the fridge until you're ready to use it. Take it from me, it's really worth the extra step!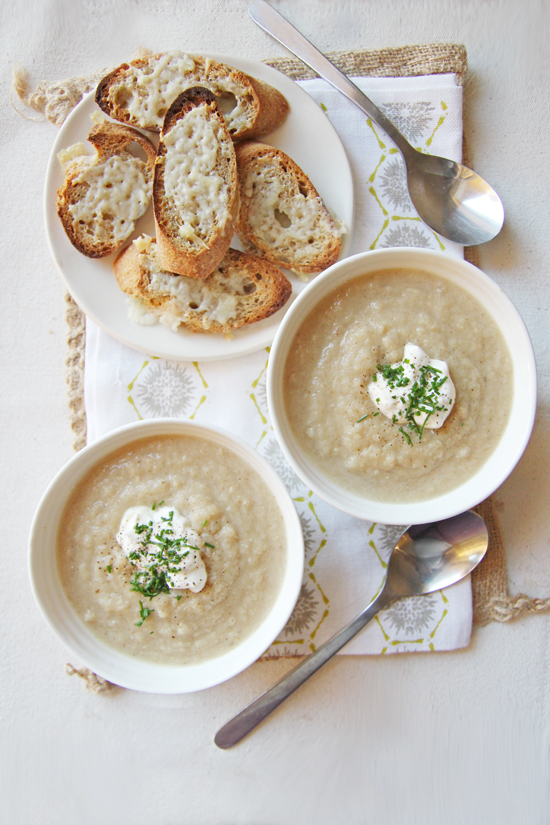 I love these kinds of back-to-basics dinners composed of hearty vegetables and simple ingredients. I always feel wholesome and pleasantly full afterwards. My household tends to have a bit of a skewed soup to topping ratio though (read a generous amount of crusty bread is always involved!). If you have some extra time, add roasted garlic to the soup, it really brings it over the top. If not, it's still equally satisfying without it.
Roasted Cauliflower Soup with Gruyere Croutons
Serve 4
4 cup cauliflower florets
1/4 tsp ground cimin
1/4 tsp ground coriander
Salt and freshly ground pepper
Olive oil
4 shallots, chopped
3 garlic cloves, minced
2 tsp chopped fresh thyme
3 cups chicken or vegetable stock
1/3 cup creme fraiche, sour cream or Greek yogurt
2 tbsp chopped chives
8 slices baguette
1/3 cup grated Gruyere
Toss cauliflower with cumin, coriander, a good drizzle of olive oil and pinch of salt and pepper. Arrange in single layer on lightly greased baking sheet. Bake in 425°F oven until cauliflower is light golden, turning once, for about 20 minutes. Set aside.
In stockpot over medium heat, add a good drizzle of olive oil. Cook shallots and garlic until shallots are light golden, about 5 minutes. Stir in thyme and cauliflower; cook until thyme is fragrant, about 1 minute. Add stock and bring to a boil. Reduce heat to a simmer, cook for 10 minutes. Using an immersion blender, blend soup until smooth, adding a little boiling water if soup is too thick.
Meanwhile, arrange bread on baking sheet. Sprinkle with Gruyere. Bake in 450°F oven until cheese is melted and light golden. Ladle soup into bowls, top with dollop of creme fraiche, chives and a little more ground pepper. Serve with baguette slices.