This past weekend, I hosted the third iteration of the Cookbook Club I run with Jan from Family Bites and Mardi from eat.live.travel.write. Our dinner was filled with recipes from Ottolenghi's first cookbook. Enjoying an entire meal with recipes from one same chef is really a fantastic experience. I often tend not to follow recipes that closely so this has been a real exercise in discipline and I love how much of a feel you get for a cookbook author when you enjoy an entire meal made from his/her recipes.
There are no beverages in Ottolenghi's cookbook so I concocted a Cardamom and Sage Mango Spritzer that I thought would go well with the meal.
As for the food, here's what we tasted: our appetizer was a Fennel and Cherry Tomato Crumble Gratin, a unusual and totally delicious mix of sweet and salty with a creamy fennel and thyme base and a sweet, crumbly topping. I loved it (you can find the recipe here).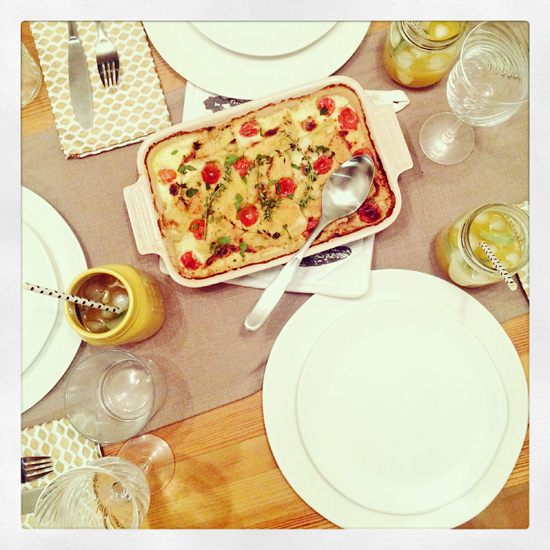 We then moved on to the main course for which I made Ottolenghi's Roast Chicken with Saffron, Hazelnuts and Honey ( a super flavourful saffron, onion and lemon marinated chicken topped with hazelnuts, rose water and honey) which I paired with Couscous with Butternut Squash and Dried Apricots, It was a nice comforting winter meal. The only addition I wished for was a little more sauce on the chicken but all the flavours were otherwise fantastic.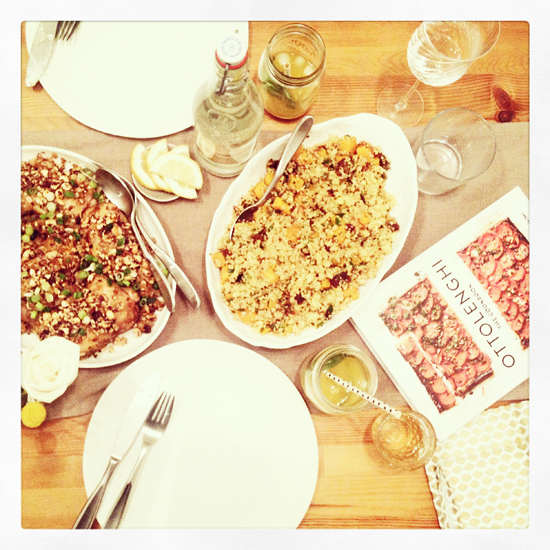 And finally, for dessert, we had Toffee Brownies, which were incredibly indulgent (they are made with both jam and toffee!). Although delicious, they were a little on the heavy side for all of our palates, and would probably make better bite-size treats. The recipe also suggests that banana jam can be used in these brownies. I've never tasted banana jam but now I know what's next on my to-try list!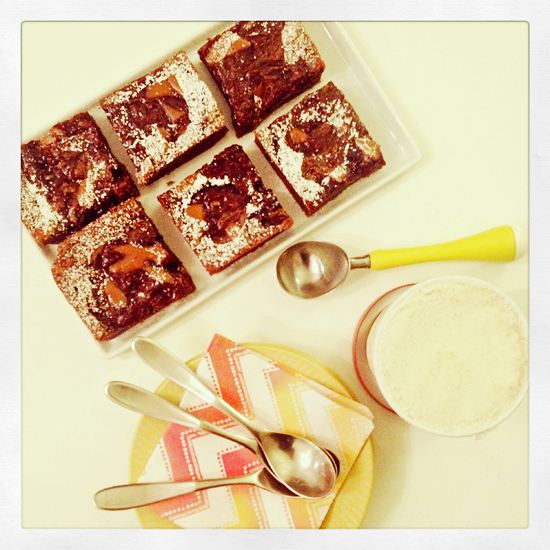 All and all, the meal was delicious, and made all the better by enjoying it with a couple of true food-lovers.
And now for a special giveaway! Random House Canada has kindly provided me with a copy of Ottolenghi to send to a lucky reader. To enter the contest, comment on this post and let me know if you're ever tried an Ottolenghi recipe and if so, which one. You can enter the contest twice by adding a comment on my Facebook page as well. The contest is open to Canadian residents only, and will run until February 28th, at midnight. For another chance at winning the book, make sure to check out Jan's and Mardi's blog.Good luck!